Unit Replacement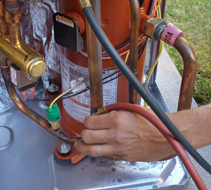 Replacing your unit is not as daunting task as it may seem - and in some cases, it may be the answer to your heating and cooling issues. At Tipton Heating and Cooling, we will evaluate your system and ensure that each element is functioning properly. There are many situations where a new unit may benefit your system, including:
If your system is not reaching its potential, but the duct work and air filters are in proper condition, a new unit may boost air flow.
Older, less productive units may raise utility bills. Consider switching to a high-efficiency unit with a SEER rating of 18 or higher.
If you're not using an TRANE or Carrier heating and cooling unit, we'll explain why you should be.