Frequently Asked Questions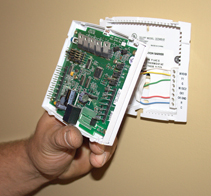 What is a SEER rating?
A SEER or Seasonal Energy Efficiency Rating is the rating system developed by the U.S. government to provide energy consumption ratings for HVAC equipment. It has a universal formula that can be applied to any unit and compensates for varying weather conditions. The higher the SEER rating is, the more energy-efficient the product will be.
How often should HVAC equipment be serviced?
Your HVAC equipment should be serviced and inspected at least once a year. For optimal performance it is ideal to have your air conditioning checked in the spring and your heating equipment checked in the fall.
What is a programmable thermostat?
A programmable thermostat is designed to adjust the temperature at different times throughout the day according to programmed settings.
How would I benefit from a programmable thermostat?
A programmable thermostat lessons the effect of temperature swings and frequently adjusted settings - which saves you money and keeps you comfortable. Take the cooling season for example. Many occupants are at work during the day but want their house to be cool upon their return. A programmable thermostat can lesson your units workload and allow the temperature to somewhat rise while you are gone but kick on and cool the house down just prior to the time you get home.
Another great example is during the heating season. Most people sleep better when the room is cool. A programmable thermostat may heat your house during the day, but allow the temperature to drop at night while you are sleeping. This saves on the heating bill while also keeping you comfortable at night.
What is a geothermal heat pump?
A geothermal heat pump utilizes the ground below the earth's surface instead of the air to provide heating, cooling, and hot water.
Why should I replace my existing heating or air conditioning system?
You may consider replacing your heating and air conditioning system if it is out-of-date, inefficient, or in need of extensive repair. Heating and cooling systems today are up to 70% more efficient than those manufactured 10 or more years ago. A new system with a higher SEER rating can make a big impact on lowering your utility bill.
How do I select the right heating/cooling system?
Your new unit should be properly sized to handle the workload presented by your home. At Tipton Heating & Cooling, we will be glad to evaluate your needs and recommend an efficient system.
What is involved in replacing an old system or installing a new unit?
When replacing your existing unit or retrofitting your system, Tipton Heating & Cooling will inspect each aspect of your system including the ductwork, refrigerant piping, electrical wiring, thermostat, condensate drain, and evaporator coil.
How long can I expect a new system to last?
With regular maintenance and inspections, your new unit should last approximately 12 -15 years.