History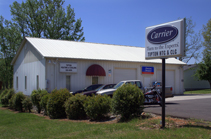 Tipton Heating and Cooling has been providing HVAC service to the Huntsville, Alabama area for over 25 years. Family owned and operated since 1984, we provide a level of dedicated attention and customer service rare in today's hustle and bustle world.
At Tipton, quality service is a family affair. Ricky Tipton founded the company and remains active in day-to-day operations. Daughter Kellee manages the business, son Brent is a service technician and Linda Patterson, Ricky's sister, handles accounts payable.
Can a company so focused on customer service stay atop the latest HVAC technology as well? We don't consider it an option not to! At Tipton Heating and Cooling, it's our duty to combine a quarter-century of experience with the latest advancements in energy efficiency. We stay on the cutting-edge of technology, but always with the customer in mind.